General Surgery (一般外科)
General surgery has a wide range of subspecialties and there are four main sections including upper digestive section (stomach and pancreas diseases), hepatobiliary section, breast section, and endocrine section (thyroid and parathyroid diseases) in our institute. We have 16 attending surgeons and performed more than 5,000 surgeries per year. Each section is leaded by experienced experts. We treated the patients from benign skin tumor to complex cancer diseases. We also offer the latest techniques and treatments including minimally invasive, endoscopic, and robotic surgery options. We are one of the most important teaching hospitals in Taiwan, which is famous for minimally invasive surgery for stomach, pancreas, and liver diseases and there are many surgeons visiting our institute to learn the surgeries. We also provide good training system for your surgical residents and aim to train the residents to become a confident surgeon with leadership.
Colorectal Surgery(直腸外科)
The core value of the Division of colorectal surgery in National Cheng Kung University Hospital has always been to help people who suffer from diseases stemming from colon, rectum and anus. For over 30 years, our division is dedicated in treating rectal cancer and is the forerunner of using "preoperative chemoradiotherapy" for sphincter muscle preservation in rectal cancer patients of Southern Taiwan, and also the one that ushered in MITAS (minimally invasive transanal surgery) concept at a very early stage of the currently widespread trend of minimally invasive surgery.
In terms of treating colon and rectal cancers, colorectal surgeons discuss operative cases every week. The colorectal team of NCKUH also holds two different biweekly multidisciplinary meetings, which enrolls surgeons, medical oncologists, radiation oncologists, radiologists, medical students and case managers, for detailed discussions and, after the meeting, provides recommendations for subsequent treatment directions. In general, according to our 2019 annual report of NCKUH, the overall survival rates of colon and rectal cancers treated in NCKUH are as follows: stageⅠ 87.1%, stageⅡ 70.01%, stageⅢ 66.9%, and stageⅣ 17.24%. Furthermore, the disease-specific survival rates of colon and rectal cancers treated in NCKUH are as follows: stageⅠ 97.53%, stageⅡ 92.78%, stageⅢ 85.36%, and stageⅣ 39.05%,. Our result shows an obviously favorable outcome, which is comparable to the published data in the world.
With the advancement of medical technology, our division also keeps updating our surgical concepts, skills and equipments to meet the needs and the highest standards of the surgical world, which can be shown by our routine practices of all kinds of colorectal procedures, including laparoscopic surgery, robotic surgery, HIPEC (hyperthermic intraperitoneal chemotherapy), stapled hemorrhoidopexy and LIFT (ligation of intersphincteric fistula tract) procedures. In other words, "keeping up with time" is the integral working ethic of our core value of the division of colorectal surgery.
Division of Transplant Surgery, Department of Surgery, National Cheng Kung University Hospital (移植外科)
National Cheng Kung University Hospital (NCKUH) organ transplant team finished the first living related kidney transplantation in September 1990. We have actively promoted brain death and organ donation concept and focus on the medical humanities education. The article of " The ever-lasting love of organ donation" which was written by an uremic patient who obtain new life after cadaveric kidney transplantation in NCKUH. It had been enrolled in the sixth grade primary school mandarin textbook and offers more than 100, 000 students to study this life touched story each year.
1.Spread the concept of organ donation, eternal love and education.
2.Promote and raise awareness of the importance of organ donation to the government, hospitals and society.
3.Establish a national organ donation propagation media to promote and recruit donors.
4.Establish standard operating procedure and policy for the organ transplantation.
5.Train transplantation specialists and scholars.
6.Our supporting team works together to provide high quality, high standard, diversified service throughout the entire process of donation to transplantation..
7.Establish consensus in the organ transplantation treatment guideline to improve medical quality and increase survival rate。
◆Introduction of the Division of Transplant Surgery
Division of transplantation consists of : kidney transplantation, liver transplantation, lung transplantation, heart transplantation medical teams, qualified specialists to declare brain death、transplant coordinators, social workers, psychiatrist, pathologist, transplant nurses.
◆Innovations
1.Erect a memorial area in honor of the donors and to raise the spirit of 【to donate organ is to give life】.
2.The first book to introduce organ donation and kidney transplantation【Every Step Counts】in Taiwan.
3.Emphasize the importance on the Humanistic Education by incorporating the concept of donation into the 6th grade elementary Chinese textbook.
4.Provide continuous support program for the cadaveric donor family members to walk out from their sorrow.
5.Promote the concept of organ donation. We received recognition by the Symbol of National Quality in 2006 & 2007.
6.Organ transplantation related medical technology: laparoscopic living donor nephrectomy to decrease donor hospitalization days and increase the willingness to donate organs.
7.We are the only hospital in the south Taiwan being able to perform ABO incompatible kidney transplantation.
8.In 2008, we are the first hospital to register our donation concept symbol 【to donate organ is to give life】as an official trademark in Republic of China.
Organ transplantation is one of the most successful treatment to safe life. However, organ shortage has been the most difficult problems. Therefore, to promote the consensus from the public and medical professionals regarding organ donation is the goal our hospital efforts.
Introduction of the Division of Cardiovascular Surgery in the Department of Surgery at the National Cheng Kung University Hospital (心臟血管外科)

By Jun-Neng Roan, MD, PhD
March 2, 2020
The Division of Cardiovascular Surgery at the National Cheng Kung University Hospital (NCKUH) was established in 1988. The founding dean, Prof. Kun-Yen Huang, collaborated with Prof. Yu-Jen Young and Dr. Lao-Shen Lin (林老生醫師) to establish the initial cardiovascular team. On September 2, 1988, Prof. Yu-Jen Young, the first Section Chief and first Director of Surgery Department, performed the first open-heart surgery at the hospital. The surgery, which was a great success, involved repairing a ventricular septal defect. The patient was discharged five days postoperatively. There was a total of thirty open-heart surgery cases in the starting year (1988). The number of cases grew steadily in the following years and there have been over 240 cases per year in recent years, Figure 1. The first resident doctor, Dr. Chwan-Yau Luo, came in 1989 for training in cardiovascular surgery. He became the second Section Chief in 2002. There has been many other outstanding cardiovascular surgeons trained in the Division of Cardiovascular Surgery at the NCKUH. In 2018, Dr. Jun-Neng Roan succeeded as the third Section Chief in the Division.
As a national medical center in Taiwan, the Division of Cardiovascular Surgery provides various kinds of surgery services. The success rate is 95.5% for valve replacement surgery and 98% for coronary artery bypass surgery. The freedom from reoperation after mitral valve repair at 10 years is over 95%. Except for complex congenital heart diseases, the success rate for congenital heart surgery was approximately 95%.
There are 85-110 extracorporeal membrane oxygenation (ECMO) cases per year. The program for ventricular assist devices started in 2012 with good results. The heart transplantation program, led by Prof. Chwan-Yau Luo, started in December 2005, Figure 2. Being a low-volume heart transplantation center with 3-8 cases per year, the number of cases keeps accumulating. There is a total of 68 cases until December 2019. Our heart transplantation outcomes are comparable to the international data. the one-year, three-year, and 10-year survival rates are 90%, 83%, and 73%, respectively.
The program for transcatheter aortic valve surgery started in 2014. More than forty cases have been reported to date, with good results.
The operation mortality rate for acute type A aortic dissection ranges between 8% and 15% in the recent decade. Other major open aortic surgeries, such as thoracoabdominal aneurysms, are also performed with good results. The endovascular therapy program started in early 2006. There have been over forty cases of thoracic and abdominal operations per year.
The Division of Cardiovascular Surgery at the NCKUH attempted to be the best in every field. Minimally invasive programs (including robotic and mini-thoracotomy operations) will begin next year. Our group also has a good connection with other outstanding medical centers in the US, Canada, and United Kindom. We also share the responsibility of global citizens in cardiovascular education. There are other important development goals in both clinical and basic research programs. The Division of Cardiovascular Surgery at the NCKUH always provides our patients with the best care.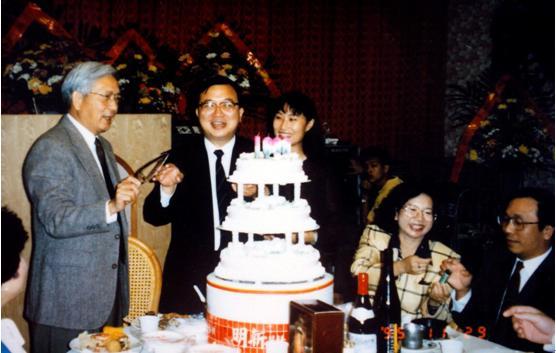 Figure 1. Celebration party for the 1000th open heart surgery in National Cheng Kung University Hospital in 1995. Founding Dean, prof. Kun-Yen Huang (left), prof. Yu-Jen Young (middle), and prof. Jyh-Hong Chen (right, previous chief of Division of Cardiology).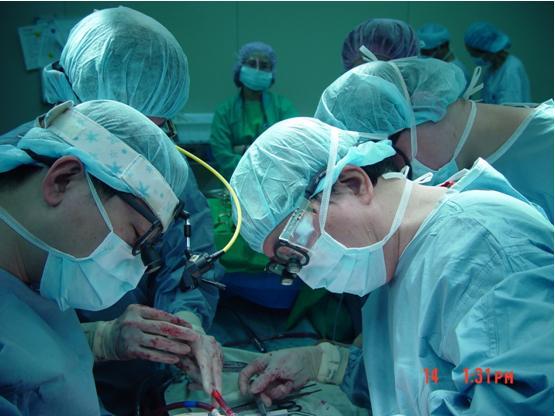 Figure 2. The first heart transplantation surgery performed by prof. Yu-Jen Young (right) and prof. Chwan-Yau Luo (left) on December 14, 2005. The patient discharged on postoperation day 15 and was doing well at last follow up on March/1/2020.
Neurosurgical service in National Cheng Kung University Hospital (神經外科)
Neurosurgical service in National Cheng Kung University Hospital was first established in June, 1988. At the beginning, Dr. Chung-Ching Chio and E-Jian Lee worked together to take the initiative of this division. In 1990, Dr. Hsing-Hung Chen, Chi-Wen Zhang and Lin-Hsue Yang joined this team and strengthened the manpower of this branch. At the same year, this department was authorized as the first training center for neurosurgery at the Tainan region. During the past twenty years, the clinical services, both in outpatient visits and the number of operations, have increase significantly. Nowadays, our department has achieved a responsibility of not only the leadership in southern Taiwan, but also providing a consummate medical environment for people living in this area.
At the present time, we have 7 faculty staffs, namely E-Jian Lee (director), Ming-Yang Lee, Liang-Chao Wang, Chi-Wen Chang, Cheng-Di Chiu, Yu-Chang Hung, and Jung-Shun Li, and 2 residents, Chih-Yuan Huang and Shih-Huang Dai, in the institute\KK Kk . We performed approximately 800 operations annually, including the skull base surgery, surgery for cerebral vascular aneurysm, cerebral arteriovenous malformation, benign and malignant brain tumors, microvascular decompression, intracranial hemorrhage, stereotactic aspiration or surgical management, spinal tumors, microscopic or endoscopic lumbar discectomy, laminoplasty, endoscopic sympathectomy for hyperhidrosis palmaris, bromhidrosis, and the release for carpal tunnel syndrome. We are able to carry out all kinds of neurosurgical procedures available by hospital located elsewhere in Taiwan.
We now have 50-60 ward beds in available for general use and 9-10 intensive caring beds for critical patients. A full-time doctor is also assigned to assist the care for ICU patients. The medical treatment provided by this department has being blossomed out as the leadership both in quality and quantity in southern Taiwan. Moreover, we are now developing various novel treatment modalities such as neuronavigation for image-guided minimally invasive neurosurgery.
Training
The residency for neurosurgeons in our division consisted of two-year training of general surgery, followed by 4 years of clinical neurosurgery training. The first 3 years in the clinical neurosurgical training include general training on neurology, radiology, and neuropathology for at least 3 mouths. Other training courses include ward, ICU training, and basic neurosurgical emergency management and fundamental neurosurgical training. We now are allowed to train one specialist in candidate per year. They hope the quota can be increased to two diplomates per year by a couple of years.
We possess 3 full sets of surgical microscopes, 2 sets of stereotaxic instruments, and a set of digital subtraction angiography (DSA). The DSA surgical room is under construction. Besides, the hospital is also equipped with Cyber-knife and neuronavigation system, which provide alternative treatments for patients of cerebral arteriovenous malformation and brain tumor in deeper brain. The intensive care unite is equipped with intracranial pressure monitoring and transcranial doppler in 3 sets each to provide monitoring for instantaneous response for critical neurological patients. We not only pay attention to clinical services for publics, but also emphasize the importance of training courses on clinical and basic sciences for residents. To provide adequate training, case discussions and journal club were held weekly. Moreover, the meetings with experts in the fields of neurology, radiology, pathology, and basic medical science are also held routinely. There are one professor, one assistant professor and an instructor in this department. Several our staffs also are relatively well funded in research. Numerous research SCI-papers have been published during the past years. We also promote collaboration with experts within the nation and do strong efforts for international research cooperation as well.
Department of Thoracic Surgery(胸腔外科)
Our department was established on June 1988 by professor Ming Ho Wu. Until now, sixteen specialist of thoracic surgery has been trained from our department. Professor Wu has retired from our university hospital since 2008. He is still active in thoracic surgery in Tainan Municipal hospital and regularly returns to our hospital for teaching of medical student. Now we have six specialist in our department, including section chief pro. Yau-Lin Tseng, associated professor Wu Wei Lai, clinical associated professor Yi Ting Yen, Doctor Ying Yuan Chen, Wei Li Huang, and Chao chun Chang.
Our department is the largest center of thoracic surgery in south Taiwan, In the early period, we were dealing with the patients with pulmonary, tuberculosis, corrosive injury and tracheobronchial stenosis. We had published a lot of papers sharing our experiences in treating these patients. Since July 2007, the national insurance of Taiwan covered the operation of video-assisted thoracoscopic lobectomy and wedge resection for lung cancer, we started to perform VATS (video-assisted thoracoscopic surgery) for lung resection, esophageal resection and mediastinal tumor excision. More than 2500 cases of VATS anatomic resections of lung has been performed in our hospital. Our hospital is also the pioneer in performing segmentectomy in Taiwan. We had performed more than 1000 cases of VATS segmentectomy since 2008 which is the largest number of VATS segmentectomy in Taiwan. We started to perform single port VATS since March 2015. Now, more than 90% of thoracic surgery could be performed by single port VATS in our hospital. A lot of thoracic surgeons (from mainland china and southeast Asia) came to our hospital for watching live demonstration of single port VATS segmentectomy or subsegmentectomy. Besides VATS, Our hospital provides robotic surgery for lung, esophageal and mediastinal disease. For the patients with end stage lung benign disease, we could also provide lung transplantation for them.
Because low dose computed tomographic scan is more popularly used for healthy examination and cancer survey, more and more ground glass opacity lesions of lung are found. In the era of precision medicine, we should try to eradicate these lesions with minimal invasive procedure and preserve more lung parenchyma to let patient have better postoperative life quality. Our hospital is now provide 3D reconstruction of lung for preoperative evaluation and indocyanine green for intraoperative lung parenchyma division. Combined with the single port VATS approach, we could provide the most minimally invasive procedures for the patients with lung disease.
Introduction of Plastic Surgical Section (整形外科)
National Cheng Kung University Hospital Plastic Surgical Section was accredited as a Training Program for Subspecialty in the year of 1990, and ever since attained a prosperous development through persistent hard work and the joint efforts of former director Haw-Yen Chiu, incumbent director Jing-Wei Lee and all the colleagues. Its professionalism had been highly appraised in southern Taiwan. The clinical arena is highlighted with microscopic replantation, complex craniofacial reconstruction for congenital deformity, free flap restoration following oncological ablation or major traumas, critical care for burn patients, as well as all types of cosmetic surgery, and so forth. The department not only is deemed the benchmark unit in southern Taiwan region, but also the referral center for patients with challenging problems.
Knowing that continuous learning, steady enhancement of capability, and innovation are the essential elements for maintaining the vitality of an organization, and keeping its competitive advantage, we attentively exert special and sustained efforts upon teaching and research tasks. Through rigorous teaching activities like pre- and post-operative case conference, ward round, journal meeting, research seminars, and a variety of academic events, we are pledged to strengthen the clinical expertise, reasoning agility, and presentation skills of our trainees, the ultimate goal is to breed confident, self-esteemed, proficient and ethics-minded professionals.
The clinical field of plastic surgery covers a wide range of anatomic and physiological domains, and therefore intimate and constructive interaction with other medical professional is mandatory. With that in mind, we had been engaged in dialogue with colleagues from various disciplines on a long-term basis, so as to share experiences, nurture partnership, and exchange knowledge, with the ultimate goal of optimizing the service quality and patient safety.
To date, a total of over six hundred finger replantation and more than two thousand hand injury repair had been accomplished in our department, more recently our service extended to the more sophisticated brachial plexus injury reconstruction with reasonable result. The reasons behind such achievement include: solid microscopy surgical training, rigorous and intensive technical rehearsal in animal laboratories, which gave rise to the outstanding successful rate for digital replantation beyond 85%, and that is a great blessing for the victims of industrial accidents.
Since 1995, treatment of facial paralysis has been progressively advancing, so as the reconstruction for breast cancer patient, there are over two hundred cases of autologous tissue transplantation for mastectomy defect with impressive results. The use of three-dimensional computerized imaging and simulation system, together with 3-D printing technique helped us to execute many a craniofacial restorative or recontouring works, either owing to developmental disfigurement, trauma or oncological ablation.
Over the years, our research activities encompass interscholastic, intercollegiate as well as an international academic conferences, so as to enhance vision and knowledge of our members. Our department subsidies and encourages residents to actively participate in academic conferences abroad and present their experience back home. Every resident is required to submit an article and get it published in the peer-review journal prior to graduation. Attending physicians are required to visit internationally renowned programs, so that they may grasp the new trend of technology and learn about the research frontier. Most of our colleagues use their spared time to attend graduate school, which makes great contribution to enhance the overall momentum and quality of the research work. Up to now more than eighty percent of our faculties have acquired master or PhD degree.
The effective integration of basic and clinical knowledge sparks off a unique professional competence within our team. Currently our research works are focused on engineering tissue regeneration, stem cell research, autologous fat transplantation, bone substitute biomaterials exploitation, and computerized simulation and image guided surgical reconstruction.
The governance emphasizes upon the principles of rationalization, democratization, transparency, and respect for individuality, taking into account the overall team efficiency and image. The life quality of our colleagues is also of great concern, as such, each resident is bestowed with his/her own official space, fun retreats are held annually, with an aim to fasten the cohesion within the entire family.
Since the founding of this program, we have trained over 30 plastic surgical specialists; a lesser proportion of the graduates stayed in National Cheng Kung University Medical Center, others thrive in private practice or serve as institutional leader. They all pose as superb examples alluding to the positive future prospect of this career or role model for the newcomers
Pediatric Surgery (小兒外科)
A healthy child is like a diamond of the treasures that god gives every parent. On the contrary, a sick child with congenital anomaly is a heavy burden, not only to a family but also to the society; to lessen this burden, the pediatric surgery division of the NCKUH attempted with our surgical techniques.
For the past 22 years, our division has already provided surgical operations and medical cares for over ten thousand sick children and the results we gain are self-evidenced. Our team include two full-time surgeons and one part-time doctor and are all experienced with a variety of pediatric surgical diseases. Pediatric anesthesiologists, nurses, operation room staffs, surgical residents and technicians all play some roles in the care of our patients. We provide, with emphasis of "warm, love, patience and empathy", international standard of patient care. And today, we could be proud to say to those sick kids and their family," You are all part of our pediatric surgery family and we, as your family, will see your kids as ours".
Trauma impacts not only the individual but also the related family (外傷科)
We set up step-wise goals for different stages of trauma management in our hospital, including RESUSCITATION, STABILIZATION, REHABILITATION, and SOCIALIZATION.
In order to achieve these goals, we have also set up multiple rapid response protocols with reliable quality in several difficult domains. Major chest or abdominal injury mandatory for emergency surgery is transferred to the operating theater within 30 minutues. Interventional radiology with transarterial embolization is done within 2 hours after the patient's arrival.
The【Massive Transfusion Protocol】enables rapid and steady blood component production. It consequently enhances the quality of resuscitation during major trauma and postpartum hemorrhage, balances the proportion of transfused blood components while avoids wasting at the same time.
【Resectional surgery for deep lung laceration】timely stops the bleeding, preserves the lung function, and stabilizes the hemodynamics, preventing condition worsening and the use of ECMO. This procedure facilitates the further management of other organ injuries, which would have been delayed by the use of ECMO.
【Combinational management for intra-abdominal solid organ injury】enables early diagnosis and early intervention between the emergency department physician, the interventional radiologist, and the trauma surgeon. Bleeding patients undergo interventional radiology and transarterial embolization within 2 hours, and unstable patients undergo surgical intervention within 30 minutes. The resuscitation quality and patient outcome are also improved by the 【Massive Transfusion Protocol】.
【Interventional radiography and transarterial embolization】timely controls the arterial bleeding in unstable pelvic fracture and preserves vital organ perfusion. The following surgery for pelvic fracture shortens the bed-ridden duration and facilitates rehabilitation.
【The management algorithm for mangled extremities】aims to stabilize the patient and restore the limb function, with early rehabilitation based on the individualized recovery.
It takes timely and copious collaboration of different surgical subspecialty to manage simultaneous yet multiple organ injury. A miss is as good as a mile. We have devoted ourselves to working out the miracle, starting by solving the riddles and the impossible hiding in the detail. We work together, reflect on our own errors, and we improve together. We intend to bring the injured not only functionally back to the society but also emotionally back to their family.
Surgical Intensive Care Unit (SICU)
The Surgical Intensive Care Unit (SICU) at National Cheng Kung University Hospital is a multidisciplinary care unit specialized for critically ill patients who require surgery or are recovering from surgery. Our team delivers coordinated care for patients with potentially life-threatening surgical diseases. Onsite 24 hours a day, our team consists of critical care physicians, surgeons, nursing practitioners, nurses, respiratory therapists and many other disciplines. The collaborative, multidisciplinary team of health professionals cares for approximately 2,000 surgical patients annually. Our cares focus mainly on, but not limited to, patients undergoing elective and emergency complex surgeries, including general surgery, thoracic and esophageal surgery, cardiovascular surgery, neurosurgery, trauma surgery, and a full range of organ transplantation. Recently, team resource management and artificial intelligence-based medical care have gradually become our standards in daily care. The Department of Surgery, together with SICU, at National Cheng Kung University Hospital has been one of the best surgical service programs in Taiwan.